Same Day Delivery
Get your dumpster rentals when you need them

Affordable & Dependable
We offer the best flat rates and NO hidden fees

Quick & Easy Rentals
Our rental process is so quick and easy a caveman can do it

Get your dumpster the day you call for one. We understand that sometimes a dumpster rental is an emergency and that is why Quick Dumpster Quotes offers next day deliveries. Sometimes we can get you a dumpster on the same day for a little extra cost. We are proud to be able to offer this service because we take pride in our customer service. We understand that most clients who need a dumpster will need it within a day, which is why we offer this convenient service to the entire Nation!
We deliver and pick up dumpsters promptly when you want them picked up. You don't have to worry about getting your dumpster late, or having it sit in front of your house/building for longer than expected. It is a priority to us to be prompt with delivery and pick up so you can be rest assured that your dumpster will be there when you need it and gone when your done with it. Our professional drivers are always careful when delivering dumpsters making sure not to damage your driveway, yard or property in any way. We usually provide wood planks for the metal dumpster wheels to sit on, but it's a good idea to have some readily available just in case. If your looking for dumpsters in your area, you have found the right company to deliver your rental promptly and at competitive pricing. Just visit our dumpster rental service area page to find your city.
Competitive pricing and always dependable. We have a goal to make your experience with us easy and at the lowest competitive prices. We have friendly representatives to answer our phone lines when you call and they make sure that you understand the process and that you are getting the right size dumpster. It is our goal to maintain excellent customer service to those in need of a dumpster rental throughout the entire nation. Through our dedication to providing the best service, we make sure you are happy with your dumpster rental from start to finish.
---
Dumpster Rental. Simplified.
The dumpster rental process can seem like a daunting task, but with further reading I assure you that it will be much simpler than you think. For the majority of people, when renting a dumpster, it will be their first time ever. Because of this, many people don't know where to begin or even know how much dumpster rentals cost! 
The main goal of QuickDumpsterQuotes.com is to explain and educate on the dumpster rental process so that we can make your lives less stressful when it comes to renting a dumpster. Here are a few topics we go over in detail:
4-Step Dumpster Rental Process
Determine Your Dumpster Rental Needs
How to Choose Dumpster Sizes
Dumpster Rental Costs & Fees
How to Compare Dumpster Rental Companies
Quick Dumpster Rental Tips
Types of Dumpster Rentals
4-Step Dumpster Rental Process
1. What are your dumpster rental needs?
Before you decide on anything, you should clearly define what your project's needs involve. Are you throwing heavy or light material, wood, shingles, or house siding? Dumpster rentals service a variety of people such as contractors, homeowners, businesses, realtors, and landlords.
Here are a few examples of why each person mentioned above would need a dumpster:
Contractors: building a home, demolishing a building or home, landscaping, roof removal, and home siding replacement.
Homeowners: renovating a kitchen/bathroom/basement, cleaning a garage, removing a deck, gutting rooms, tearing down walls.
Businesses: garbage disposal, office clean-outs, building remodeling.
Realtors: cleaning out abandoned homes, home upgrades, home improvements, landscaping upgrades.
Landlords: home/building demolition, clean-outs, remodeling, large home/building repairs.
Whatever your needs are, it's important to specify with as much detail is possible so that you and the dumpster rental company can choose the best dumpster possible for you. There are many dumpster sizes available. The bigger your project size, the bigger the dumpster you will need to rent.
2. Determine a dumpster rental size
The next step in the process is to choose your dumpster size. All dumpster sizes are based on cubic yards so for example, a 5 yard dumpster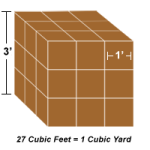 will hold 5 cubic yards of debris and junk, a 10 yard dumpster will hold 10 cubic yards of junk and so on.
Some dumpsters have swinging doors that open on one side which makes it easier if you have to throw heavy junk into it, but most are just your typical open top dumpsters. Here are some brief descriptions and dimensions of dumpster sizes.
The 5 yard dumpster is best used for the small jobs like garage and shed clean outs. This size dumpster rental can also be used for small bathroom renovations too. There are numerous projects that the 5 yard dumpster can handle and it is a very versatile dumpster because of its size and light weight. You don't have to worry about damaging your driveway with this bad boy. Some common dumpster rental projects are:
Small bathroom and kitchen renovations
Spring cleaning
Cleaning out basement, garages, sheds – basic junk removal.
The 10 yard dumpster rental is one of the most common dumpsters because it fits the needs of nearly any project. Being able to hold 10 cubic yards of junk, this dumpster will challenge you to fill it up. When you call your local dumpster rental service company, tell them about your project and they will help you figure out whether this dumpster is a good fit for you. Here are typical projects for the 10 yard dumpster:
Small garage and basement clean out
250-300 sq ft deck removal 
1500 sq ft of single layer roof shingle removal
Driveway or concrete tear-outs 
Dirt removal
The 15 yard dumpster is a popular choice with homeowners, businesses, and contractors. This dumpster rental will hold 15 yards of cubic junk and its common dimensions are 12 ft long – 7 ft wide – 5 ft high. Call your local dumpster rental business to see if this size dumpster is big enough or too little for your project. Typical uses for the 15 yard dumpster are:
Cleaning out medium size garage
Large yard clean-up
Medium basement remodeling
Medium kitchen remodeling
The 20 yard dumpster is the most popular size out of any dumpster rental size. It's small enough to easily fit in your driveway, but large enough to tackle big projects like building/home construction, large demolitions jobs, and large landscaping jobs. As you probably have guessed already, this dumpster rental holds 20 yards of cubic junk. Here are the most common jobs for the 20 yard dumpster:
Large garage, attic, and basement clean-outs
Floor and carpet removal for a large house
300-400 sq ft deck removal
2,500-3,000 sq ft of single layer roof shingle removal
Large bathroom and kitchen remodel
The 30 yard dumpster rental will hold 10-12 pick up loads and has an approximate weight limit of 4 tons. A 30 yard dumpster hold 30 cubic yards of junk. When the 20 yard dumpster is a bit too small for a job, you can always count on the 30 yard dumpster too hold all the big projects. The most common uses for this size dumpster rental are:
Major home editions
Home and building construction or demolition
Commercial roof tear-offs
Landscaping large areas
3. Understanding Dumpster Rental Costs and Fees
Before you go and rent a dumpster, it's important to understand the extra fees that may be involved. Some of these are good enough reason to rent from a different dumpster rental company.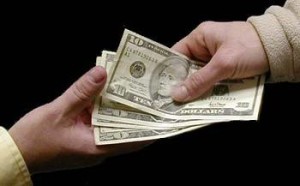 Dumpster Roll off rental companies all have their own fees they may charge. It may be because the landfills charge them more, or they might charge by weight, and they may even charge for fuel costs and days the dumpster rental is kept over the limited time period. Whatever the fees are, the companies have a good reason to charge them and it won't make or break the bank but it's always nice to know the potential fees when buying anything!
Base Rate. The base is the flat rate cost of the dumpster rental size. The price of the base rate will be most of the cost you pay for a dumpster rental. These rates don't change very often, and you can find these prices directly from dumpster rental websites or by calling them directly if they don't provide pricing on the website. 
Tonnage Fee. A tonnage fee is described as the amount (in tons) over the weight limit designated for a particular dumpster rental. For example, the weight limit of a 20 yard dumpster is 4 tons. If you throw more than 4 tons of junk into the roll off dumpster, then you will be charged a flat rate of $50 or so (the flat charge is not universal and depends on the dumpster rental service you use). 
Tipping Fee. Tipping fees are fees that the landfill charges the dumpster rental company each time they tip the junk off their roll off and into the landfill area. These fees vary by state and a good resource to find more information on tipping fees can be found here.  
Late Dumpster Rental Return Fee. Sometimes projects will take longer than expected, and because of that, you will have to keep the dumpster longer than the agreed upon time frame. Late charges are per day or per week and usually cost around $25-50 each day you keep the rental over the time frame.
Refill Fee. This fee depends on the dumpster rental company. Some will give you 1 dumpster refill and others will charge you each time to have it refilled. Check with your local dumpster rental roll off companies to get the answers. 
Hazardous Waste Fee. This fee can get pretty expensive so be responsible and don't throw hazardous waste into dumpsters. Hazardous waste can be any of the following:
Paints and solvents
Motor oil or antifreeze
Pesticides
Electronics
Cleaning agents
Batteries
Miscellaneous Fees. Sometimes you will need a permit from your local municipality to park a dumpster on a public street or cul-de-sac. Call your local municipality for more info. 
Extra Charge To Throw These Materials:
Tires
Mattresses
Appliances
4. Comparing Dumpster Rental Companies
Once you have figured out your project needs, dumpster size, and you understand the costs, you can start to compare the dumpster rental companies in your area. Comparing dumpster rental services by price is a great indicator on who you will choose, but don't overlook these other characteristics of a good company, and the potential of a great experience!
Featured Services
Featured services are vital for dumpster rental companies to separate themselves from the competition. These services might include:
Discounts for cash
Free dumpster refill(s)
Same day delivery and pick up
No tonnage fees
Flat rate fee
Longer rental periods
No late rental fees
Location
If the dumpster rental service is close to you, it might be cheaper. It could be cheaper because of less gas used to drive out, and less labor costs for not being on the road as long. You might not get the cheapest rate, but it doesn't hurt to tell the dumpster rental company that you will go with them if they drop the price a bit because you live down the road. 
Apart from the featured services and location, make sure that they have your dumpster size needed. All dumpster roll off businesses are not the same and do not carry the same dumpster sizes. You need to know if they have any dumpsters available in stock for you rent too.
Dumpster Rental Tips
By following a few of these tips, you can save some coin and save yourself despair and agony. Some dumpster services are better at customer service, some have better prices, and some focus on being convenient. It all depends on what type of service you are looking for. Some roll off rental companies will only drop off and pick up the dumpsters while others will actually load all the junk into the dumpster for you as well as haul it away. 
Choose Local Over National Companies
When you choose to do business with a local roll off rental, you will save more money because these local roll off businesses do not have as much overhead expenses like a Waste Management would. The only reason Waste Management gets dumpster rental jobs is because it is a household name and it's a first stop for many people who need rentals. WM will always be more expensive than any other local roll off service company. 
Renting from a local hauler should also give you the confidence to know that it will be a job well done with great customer service to top it off! Local dumpster rental businesses pride themselves on customer service and doing jobs right. The word of customers in their community is the most important marketing and advertising that they rely on, so you can bet they are always on their "A" game. 
Call Around
Calling up 2-3 (at least) dumpster roll off rental businesses to get quotes is the best way to get the best price and understand what makes each service unique to you. Would you want to give business to a company that was a jerk to you on the phone? I don't know about you, but I would gladly pay an extra $50 to the nice guy down the road instead. 
Speaking with 2-3 companies will give you ammunition for bartering prices down as well. A lot of the time, rental service companies will match or beat the competitions pricing. Make sure you let them know if they are too high on price and the guy down the street is a bit cheaper. 
Ask For Discount Dumpster Rental Pricing
Some dumpster rental companies will give discounts to senior citizens. Who would have thought that!! If you don't ask, you will never know. Hey, maybe they give discounts for cash – and if they don't, you can always propose it. 
Final Dumpster Rental Thoughts
Thank you for taking the time to read this very long page. I hope it was helpful and gives you the confidence and know-how when it comes time for you to rent a dumpster. 
I would encourage you to check back from time to time because very soon we will be unveiling a dumpster rental search software which will make the dumpster rental search ultra easy for you. 
Check out our Who We Are page to get more detailed information on what we plan to accomplish. Our end goal is to give more business to the local companies, and make the dumpster rental search process quick, but informative so that the customer has all the information they need on one page. 
Because

Dumpster Rental

should be

Quick

&

Awesome

!