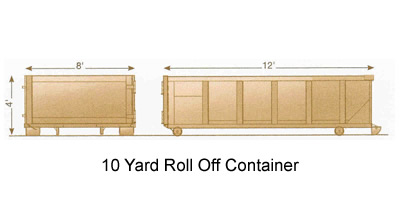 Call to Order: (888) 316-0324
We always have 10 yard dumpsters in stock. The 10 yard dumpster means that it can hold 10 cubic yards of waste. Call us today and we will help you decide if a 10 yard dumpster is the right type of dumpster for your needs. Check out our full list of dumpster sizes.
Common Uses:
Garage, small basement clean out.

Demolishing a 250-300 square foot deck.

1500 square feet of single layer roof shingles.

Small kitchen and bath remodeling job.

Concrete demolition

Sod tear out

Dirt Removal
We dispose of any household debris and construction debris. Give us a call to see what is prohibited to throw in the dumpster.
The 10 yard dumpster is a great choice for tight space. It can roughly fit into a regular car parking lot space. Delivered usually by smaller trucks, which means that the impact and weight should not damage your driveway or property.