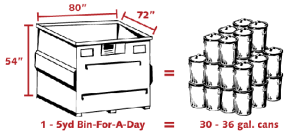 Call to Order: (888) 316-0324
This is the little guy. It's the smallest of the Roll Off dumpsters that get delivered. Best used for small projects such as spring cleaning, small bathroom renovations or knocking down a wall in the house to create a bigger room. The small projects are endless for the 5 yard dumpster.
Why the 5 Yard Dumpster is a Good Investment
The 5 yard dumpster is especially good investment of services if the project you are undertaking is going to take a week or so. Don't make multiple trash runs when all you have to do is heave your trash into this little, but big enough dumpster. These dumpsters can be dropped off, picked up and disposed of by your local dumpster rental company. The 5 yard dumpster hold 5 cubic yards of waste; the average car can hold 1.5 cubic yards for an example. Check out other dumpster sizes here.