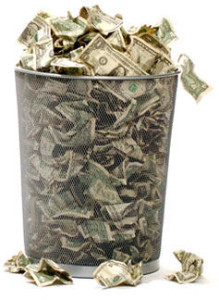 Your in luck! There are some easy ways to make sure your wallet stays heavier. Here are some cool ways you can make sure that you get the best local dumpster rental price in your area.
It's All About The Dumpster Size
Ordering a dumpster size is the main load of the what you pay for. You could end up paying $200-$300 extra for each larger dumpster size you consider. End up choosing the wrong size and it will cost you. Many of your local dumpster rental companies will have different specifications on what type of materials you can throw in a dumpster as well as weight restrictions. Make sure you get a good idea of how much you plan to dump and what type of junk you plan to throw in it. Knowing this information can also help the dumpster rental company with helping you decide the perfect dumpster size. These 3 things will help the dumpster companies make the best decision for you:
What type of project you are using the dumpster for? (small/large remodel, roof shingle removal)

What is the main type of material you plan to dump? (wood, metal, rubber, ect..)

How heavy do you think it will be? I understand you might not know this, but just by mentioning this, the company might say that weight is not a problem.
Call Around
The best practice is to call at least 2-3 local dumpster rental services before you decide to rent from one. Not every dumpster rental services offers the SAME price for the SAME dumpster size. By doing this, you might find that company "A" offers a 10 yard dumpster for $200, and company "B" offers a 10 yard dumpster at $250.
Understand Added Expenses
Tipping fees, overage charges, and late charges are all added expenses that come with renting a dumpster. Some fees will be included in your quoted price but others will not. Always ask about additional fees and charges associated with the rental.
Overage fees can get particularly expensive if you're not careful. These are fees you pay to the rental company if you happen to go over the tonnage limit for the rental. These fees can cost $40 or more per ton in addition to the normal rental cost of the container.
This is just another very important reason to be as accurate as possible when describing the types and amount of material you plan to dump when talking to the service rep over the phone.
Ask For Discount Pricing
Here is one of the greatest reasons to use your local dumpster rental service. Some dumpster rental companies will offer you a discount if you are part of a community or local organization, but if you don't ask, they will not tell; so simply ask. Also, although rare, some companies will give discounts for senior citizens. Save 10% or more possibly just from using this tip!
Simple Negotiation
Yes, dumpster rental companies negotiate with you. Gain an advantage by calling 1-2 local dumpster companies to get their rates as a negotiating tool. Most of the time, local dumpster rental companies will either match or beat their competitors pricing. Give it a shot!